MAY MEETING ANNOUNCEMENT
THURSDAY, MAY 14TH
Meeting starts at 7:00 PM


WORKING AMATEUR SATELLITES
VIRTUAL MEETING
USING ZOOM
VIDEO CONFERENCING

QST QST QST…
The May meeting of the Stockton-Delta Amateur Radio Club will be held on Thursday, May 14
th
starting at 19:00 hours. The meeting will be VIRTUAL – ON-LINE using Zoom Video Conferencing as our platform.
You can join via the web link listed here in the announcement below.
Following the business meeting – we will have our speaker, Fred
K6FVC
as he shares with us his journey into Satellite Communications from his shack in Manteca! Fred has a great story to tell on how he got started in HamSats and how you can do it too…
Tell your friends about this exciting meeting and plan on attending by including the meeting notice and connection link in your calendar...
W6SF SDARC MEETING FOR MAY 2020 - AMATEUR SATELLITES


Time: May 14, 2020 07:00 PM Pacific Time (US and Canada)


Join Zoom Meeting - https://us02web.zoom.us/j/94280716499
Meeting ID: 942 8071 6499


One tap mobile


+16699009128,,94280716499# US (San Jose)
+13462487799,,94280716499# US (Houston)
GET READY FOR THE FIRST "VIRTUAL HAMFEST"
SATURDAY MAY 16TH, 2020
CLICK ON THE YOUTUBE ANNOUNCEMENT HERE
W6SF APRIL MEETING REPORT
THURSDAY APRIL 9TH 19:00 HOURS
The April meeting of the Stockton-Delta Amateur Radio Club was called to order at 1900 hours by President Bob N6TCE. The meeting was held virtually using Google Meets. VP Mark W6SXA gave a brief report on the July 4th parade, stating that the United Veteran's Council had not been meeting so the status of the parade this year is unknown. John NZ6Q gave a brief update on Field Day and explained an idea that would create a special class for club stations working together through remote stations. This "V" class has some interest with the current COVID-19 pandemic and no decision yet on whether government restrictions on group meetings would be restricted by the June 27th event. John also reported that the 15 new licenses from the April 4th Test Only session had been issued by the FCC today. Two new hams were on the Virtual Meeting. Al KN6IOK who received his license Saturday and Jacob KN6IHX who had completed a virtual testing session to upgrade to General Class.
Having no further items to discuss and no new business, the business meeting was adjourned and the training session began.

Vince KM6IRY had a great overview of DMR, discussing programming hints, differences between DMR offerings from different organizations and great tips on how to get started. There were lots of questions and great information exchanged. Dan WL7COO, SJV SEC promoted DMR as a tool for Emergency work and ARES.

The meeting was adjourned at 2045 hours. The next scheduled meeting of the Stockton-Delta Amateur Radio Club is Thursday, May 14th with Amateur Satellites as the scheduled topic.

Depending on the decisions of state and local health authorities, the BoD will decide if the meeting will be virtual or back at the Stockton Sailing Club.
73, Annie N6ACL, Secretary
FIELD DAY 2020 IS COMING JUNE 27TH & 28TH
ORDER YOUR OFFICIAL FD 2020 GEAR
THROUGH THE CLUB
SAVE ON SHIPPING CHARGES
The 4th weekend in June (27th & 28th) is Field Day and it promises to be an interesting event this year. First, read the ARRL suggestions here at
"Time to Adapt"
Then let's order some of the coolest Field Day SWAG I've seen coming from the ARRL in nearly a decade by putting together a club order together. This year's logo incorporates a Concert Tour Theme and an opportunity for new hams and especially youth to "check-off" sections worked on their T-Shirt.
With 2020 ARRL Field Day – one of the biggest events on the Amateur Radio
calendar just weeks away, ARRL officials are monitoring this situation with the coronavirus very closely and paying close attention to all of the information and guidance being offered by the CDC's Centers for Disease Control and Prevention https://www.cdc.gov/coronavirus/2019-ncov/index.html
At its core, Field Day is a local event and an opportunity for local amateur radio clubs to showcase the skills, science and technologies that make radio communication such a wonderful hobby and a valuable public service. Since the impact of the coronavirus outbreak has been very different in different parts of the country, we recommend that all amateur radio clubs participating in Field Day be in regular contact with their local or state public health officials for their advice and guidance on hosting Field Day activities. This also offers an opportunity for amateur radio clubs to bolster or re-establish their relationships with local and state public health and emergency management officials.
Because of the unique circumstances presented this year, this can be an opportunity for you, your club and/or group to try something new. Field Day isn't about doing things the same way year after year - use this year to develop and employ a new approach that is in line with our current circumstances.
Local club officials are the most appropriate people to be making decisions about their specific Field Day programs. We are all concerned about protecting the health and safety of those participating in or attending Field Day activities, and so we trust local club officials to take the appropriate steps to monitor local conditions and make decisions in the best interest of their communities.
ARRL officials strongly believe that following the guidelines of local, state and national health care professionals will help ensure everyone's safety in the coming weeks and months.
World Amateur Radio Day on April 18 Celebrates 95th Anniversary of the IARU
Saturday, April 18, is World Amateur Radio Day (WARD), this year marking the 95th anniversary of the International Amateur Radio Union (IARU). Around the world, amateur radio special event stations -- most sponsored by IARU member-societies -- will mark the event on the air, starting on April 18 at 0000 UTC and continuing until April 19 at 0000, honing skills and capabilities while enjoying global friendship with other amateurs worldwide.
The theme for WARD is "Celebrating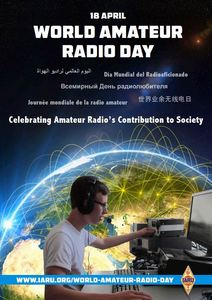 Amateur Radio's Contribution to Society." IARU President Tim Ellam, VE6SH/G4HUA, notes that the COVID-19 pandemic casts the event in a different light than in years past.
"A few short weeks ago, many of us could not imagine the levels of isolation that we are now dealing with and the sacrifices of many on the front lines of the pandemic," Ellam said. "As we have done in past challenges to our society, amateur radio will play a key part in keeping people connected and assisting those who need support."
Ellam said he's coming off his own 14-day isolation after returning from overseas. "I am touched by the kindness of strangers who assisted me when I was unable to leave my house," he said. "It strikes me amateur radio operators, who give so much during these times of crisis are not limited to assisting over the air. Amateurs are true volunteers, and I would encourage everyone to assist in the community as they are able to."
On April 18, 1925, the IARU was formed in Paris, with ARRL cofounder Hiram Percy Maxim, 1AW, in attendance. Radio amateurs were the first to discover that shortwave spectrum?could support worldwide propagation, and in the rush to use these shorter wavelengths, amateur radio found itself "in grave danger of being pushed aside," as IARU history puts it. Two years later, at the International Radiotelegraph Conference, amateur radio gained allocations still recognized today?--?160, 80, 40, 20, and 10 meters. From an initial 25 countries, the IARU has grown to include 160 member-societies in three regions.
How to Participate
Get on the air! WARD events are listed on the WARD web page. To list a World Amateur Radio Day event, contact IARU Secretary David Sumner, K1ZZ.

Promote your personal World Amateur Radio Day activity on social media by using the hashtag #WorldAmateurRadioDay on Twitter and Facebook.
Create and hold a special net on World Amateur Radio Day to draw attention to the event and allow hams to start talking about our hobby.
World Amateur Radio Day is not a contest but an opportunity to talk about the value of amateur radio to the public and our fellow amateurs. It is also a great opportunity to talk about your club and amateur radio in local media.
In this time of social isolation, amateur radio continues to remain relevant in bringing people together through radio while providing essential communication in the service of communities.
"My wish for this World Amateur Radio Day is for everyone to stay safe, follow the advice of medical professionals, and use amateur radio and your skills to help us through this crisis," Ellam said.
THE 2020 DELTA CENTURY RIDE SCHEDULED FOR MAY 3RD HAS BEEN CANCELLED
The Stockton Bicycle Club has been monitoring the situation with the coronavirus or COVID-19. As of 3/24/2020 we have decided to cancel this year's event. We are disappointed with this, but feel it is necessary given the circumstances. We hope to have this event next year, with everyone safe,
still riding and enjoying the healthy lifestyle of bicycling. Thank you for your consideration during these difficult times.


Please check back in early 2021 for updates.
BATTLESHIP NEW JERSEY AMATEUR RADIO STATION (BNJARS)
Museum Ships Weekend is CANCELLED
Due to the current unknowns with COVID-19 virus, BNJARS is cancelling the planned annual Museum Ships Weekend Event 2020 which was scheduled to begin 6-June-2020 at 0001Z and end 7-June 2020 at 2400Z.
A lot of the ships that participate are already closed due to this health situation and others may get orders to close soon. As of today, April 6, 2020, it is unknown when the "lock-down" will be lifted so it is with an abundance of caution and regret that we have decided to cancel MSWE 2020.

The health and safety of all our ship participants takes precedence at all times.
2020 CLUB DUES ARE NOW DUE AND PAYABLE
DUES ARE STILL JUST $20 IN 2020!
The 2020 Board reviewed the current dues schedule and determined that if the club maintained their current membership level and continued to grow, there should be no reason to raise the dues in 2020.
SDARC Dues are just $20 for a single membership, and $30 for a family membership - when the family lives under the same roof. Click on the PayPal icon, and pay at that point with your credit or debit card.
Joining SDARC is a great value and a great investment in your hobby. We are looking forward to a great year of learning, supporting events and just plain hanging out and having fun. Your $20 or $30 dollars help support these activites, help new hams get started, and help keep our repeaters on the air and getting better.
You can also send a check for dues to:
Stockton-Delta A.R.C.
P.O. Box 690271
Stockton, CA 95269-0271
PEDALING PATHS TO INDEPENDENCE
BIKE RIDE

12TH YEAR
BIG SUCCESS!
The Community Center for the Blind and Visually Impaired hosted its 12th annual Pedaling Paths to Independence Century Bicycle Ride in Linden on Saturday February 22nd. The ride is an annual fund raiser to support activities for its San Joaquin County clients. Last year's ride saw nearly 400 participants and raised over $25,000 for the Community Center. The fundraising count is going on for this year, but we saw almost 300 riders on the course and over 325 registered.
This is one of our biggest operating events and we tested our plans and systems several times. We had some minor issues at the start with APRS tracking of SAG wagons, but John NZ6Q and Dustyn KM6HDY at Net Control figure it out and we had excellent APRS coverage this year. One of the board members for the Delta Century Bike Ride spent some time at Net Control and was very impressed with the APRS map and information.
Brent W6YNO and Sierrah K6WYF as well as Ron KG7OR and Dave WB6TOU provided much needed support and coverage as Riders crossed and recrossed Hwy 26 along the route. We will be looking into providing coverage at the intersection of HWY 4 and Milton Rd next year as well as we were approached by local residents in that area concerned for rider safety. SAG Wagons were busiest along the Milton Rd stretch assisting riders with SAGs into the next rest stop, fixing flats along the roadside and occasionally bringing a rider back to start-finish. One rider at the Farmington Rest Stop was SAG'd back to start-finish and a few minutes later transported by ambulance to a local hospital after being evaluated by EMS and Linden-Peters Fire first responders. (editors note... just procautionary and at last report Saturday was doing fine in the ER) For the last 12 years, the Stockton-Delta ARC has provided radio communications between rest stops, the start/finish line and sag wagons.
Our "Central Dispatch" phone number, was used several times by riders needing SAG support but thankfully no emergencies. Using APRS in each of the SAG Wagons, Net Control was able to track the locations of SAGs and 'dispatch' the closest SAG Wagon to the reported break-down or other incident.
Riders and Volunteers enjoyed a tremendous lunch hosted by DeVinci's Deli. Net Control was placed in front of the restaurant on Front Street.
Thank you to the Lodi Amateur Radio Club for the use of their repeaters on Fowler Peak (WB6ASU) and Gopher Ridge (N6GKJ) for the event. Our HWY 26 "watchdogs" used simplex to give each other a heads-up (great idea guys) on riders to help keep that stretch safe. We were able to monitor that at Net Control which tells us that we could potentially try adding ATV camera there in the future.
Bike rides like this one for the CCBVI give us an opportunity to demonstrate the capability of ham radio to others, and teach us how to handle radio traffic of varying priority while in the field. We even got press in the Escalon Times! check it out at

www.escalontimes.com/news/vision-impaired-bicyclists-ready-roll-through-countryside/
Thanks to Dave N6LHL for pictures. Thank you ALL who came out and gave up a beautiful Saturday to help this very worth cause.

If you have pictures of the event, please send them to nz6q@arrl.org for including in the newsletter this month.
Photo Album Gallery Place Holder - Please wait while the Photo Album loads. If the album does not show, please refresh the page to try again.
HAM UNIVERSITY - "HAM-U"
NEW HAM - EXPERIENCED HAM
TRAINING CLASS
NEW DATE
SATURDAY, SEPTEMBER 12TH, 2020

Ham-U has been rescheduled until the fall. We had a schedule conflict with the March date and have rescheduled to May 16th. Now, with the city facilities shut down because of the Coronavirus Shelter-in-Place, we have decided to move to the fall. This is a FREE program that every ham – from beginner to Extra Class can benefit.

The term "Elmer" means someone who provides personal guidance and assistance to would-be hams. The term first appeared in QST in a March 1971 "How's DX" column by Rod Newkirk, W9BRD (now also VA3ZBB). Newkirk called them "the unsung fathers of Amateur Radio."


Stockton-Delta Amateur Radio Club, the Manteca Amateur Radio Club and the Lodi Amateur Radio Club have come together to help teach new hams how to get started and offer this "personal guidance".
These sessions are an opportunity for the new ham to learn and discover some of the many opportunities there are in Amateur Radio to "find your world" and give any ham just the chance to ask questions and get on the air.
The class is structured with three 50 minute "classroom" sessions in the morning; lunch for an hour with "mini presentations", then two 50-minute break-out sessions in the afternoon. Classroom sessions include: Setting up and operating an HF station, Introduction to CW - Morse Code, digital modes - FT8, DMR, Picking your Radio Club, Programming and using your programmable radios, Anderson Power poles, building simple antennas, Radiosport (contesting & chasing DX), Satellites and an opportunity to ask questions of experienced ham operators in an open forum.
SIGN UP FOR ELMERING SESSIONS HERE.


THEY ARE FREE
STOCKTON FIRE STATION #2
TRAINING DIVISION CLASSROOM
110 W SONORA ST
STOCKTON, CA 95202
(CORNER OF W SONORA ST/COMMERCE ST)
STARTING AT 8:00 AM

Saturday, September 12th, 2020
Get Your Ham Radio License in Just 1 Saturday!
Saturday, August 8th, 2020
8:00am-3:30pm – Doors Open at 7:45 AM
Stockton Fire Station 2 – Training Division
110 W Sonora St, Stockton, CA 95202
HamCram is an easy way for emergency workers (paid and volunteer), CERT team members and others who might use Amateur Radio in an emergency to get their licenses.

It is also an excellent way for current hams to help family members get their licenses.
There is no easier or quicker way to get a ham license.
HamCram is for persons seeking their first license (Technician Class) as well as current hams seeking to upgrade from Technician to General Class or General Class to Extra.
Cost for the one-day event is $20 when you preregister ($25 at the door). Preregistration and prepayment are strongly encouraged.

If you have ever wanted to get your license (or know someone who should), now's the time!
Register www.w6sf.org/hamcram.html
THANKS DAVE NAVONE FOR THE LINK TO THIS COOL VIDEO ALL ABOUT HAM RADIO AND THE TV SHOW "LAST MAN STANDING"
W6SF
2019 FIELD DAY VIDEO
CHECK IT OUT!
THANK YOU DENNIS AD6DM
ARRL 2019 FIELD DAY
GREAT DAY - GREAT FUN
LOTS OF CONTACTS!
The 2019 ARRL Field Day was held on Saturday June 22nd and Sunday June 23rd from 11:00 AM to 11:00 AM. We had a great turn out of club members to set-up, operate and break down at the end of the event. We were on the air on 4 bands at the start of the event. Not bad considering we started setting up at 8:00 AM Saturday morning.
Set-up crews were treated to Starbuck's coffee, donuts & bagel bites.
Once on the air, the fun quickly got into high gear. We were running 6A catagory this year - 6 simultaneous stations on emergency power, so we got lots of operators and lots of contacts. We used 3 FT-950s on 20-15-10 Meters (thank you K6TVT, N6DCH & NZ6Q) using the beam antenna. Icom IC-7300 was on 40-Meters and the club go-box was on 6M and 2M. Thanks to Dave N6LHL we had his FT-840 to run a dedicated radio on 80-Meters as well.
Paul N6KZW, Jim K6JMB and John NZ6Q ran the overnight shift with lots of QSOs on 40M & 80M Phone and CW.
Here are some early pictures of the event...
Photo Album Gallery Place Holder - Please wait while the Photo Album loads. If the album does not show, please refresh the page to try again.
CHECK OUT THE NEW CLUB HISTORY PAGE
CHECK OUT OUR OWN BOB KM6ONS AND KYLE K6KDD ON GOOD DAY SACRAMENTO
AUGUST 28, 2018
CLUB REPEATERS
Located in the Sierra Nevada Mountains at 2500 feet, the club repeaters cover the Southern Sacramento and Northern San Joaquin Valleys. The call-sign is W6SF and can be heard on 147.165 MHz and on 442.250 MHz with a PL of 107.2 Hz. Club simplex frequency is 147.51 MHz.
SDARC also has a UHF repeater, operating independently, on 444.575+ PL 107.2. This is a local low level Stockton repeater with the call W6SF. As the project progresses, three receiver/voters will be installed via T1 phone lines and the addition of IRLP linking to other repeaters.