FEBRUARY 13TH CLUB MEETING

REPORT - E911 CENTER TOUR RESCHEDULED
So.... what do you do when your speaker is also your host - and 2 hours before the meeting calls and says, you can't come in?

You improvise! and we had a great meeting anyway. We welcomed 3 new hams, several members ate good Hawaiian BBQ food, we welcomed three new members to the club, and we had a good lesson on relaying to E911 in an Emergency.

Prior to the club meeting, and getting ready to put out the cancel call after Stockton PD calling and stating that the E911 Center could not host visitors that night, we ate at the Sunshine Hawaiian BBQ on Center St. Good food and they have a party room in the back! A quick QST was transmitted via social media and on the air (Thank You Ron W6RPM) and the club meeting was moved across the street to the restaurant.

Mark W6SXA gave a brief report on the upcoming Pedaling Paths Bike Ride and the planning meeting for the 4th of July Parade by the United Veteran's Council. President Bob N6TCE gave a rundown of the upcoming events and John NZ6Q gave a short presentation on how to relay into E911 should you get an emergency via Amateur Radio.

We will reschedule the E911 Center Tour for later this year. The meeting was adjourned about 8:30 PM and everyone had a good time.


2020 CLUB DUES ARE NOW DUE AND PAYABLE
DUES ARE STILL JUST $20 IN 2020!
The 2020 Board reviewed the current dues schedule and determined that if the club maintained their current membership level and continued to grow, there should be no reason to raise the dues in 2020.
SDARC Dues are just $20 for a single membership, and $30 for a family membership - when the family lives under the same roof. Click on the PayPal icon, and pay at that point with your credit or debit card.
Joining SDARC is a great value and a great investment in your hobby. We are looking forward to a great year of learning, supporting events and just plain hanging out and having fun. Your $20 or $30 dollars help support these activites, help new hams get started, and help keep our repeaters on the air and getting better.
You can also send a check for dues to:
Stockton-Delta A.R.C.
P.O. Box 690271
Stockton, CA 95269-0271
PEDALING PATHS TO INDEPENDENCE
BIKE RIDE EVENT
SATURDAY FEBRUARY 22ND
STARTING AT 7:00 AM

The Community Center for the Blind and Visually Impaired will be sponsoring its annual Pedaling Paths to Independence Century Bicycle Ride in Linden on Saturday February 24th. The ride is an annual fund raiser to support activities for its San Joaquin County clients. Last year's ride saw nearly 400 participants and raised over $25,000 for the Community Center. This year the turn-out is expected to be larger.
For the last 12 years, the Stockton-Delta ARC has provided radio communications between rest stops, the start/finish line and sag wagons. This year we will support more APRS enabled operators in SAG wagons with a full display at the start finish line. We will also be supporting target hazards where the course crosses busy Hwy 26 coming out of Calaveras County. This year will be one of our biggest operating events.
We will again be advertising to the riders in concert with the Stockton Bicycle Club our "Central Dispatch" phone number. Each rider will be given this number to call directly to the Net Control Station in the event of an emergency or break down. Using APRS in each of the SAG Wagons, Net Control will be able to track the locations of SAGs and 'dispatch' the closest SAG Wagon to the reported break-down or other incident.
Riders and Volunteers enjoy a tremendous lunch hosted by DeVinci's Deli. Net Control will be set up just outside of the restaurant.
Event Chairman, Mark W6SXA should have a "first draft" of the assignments at the February 13th club meeting and a final version along with ICS-102 will be emailed to everyone before the event. You can email Mark at hdmac48@yahoo.com .
Bike rides like this one for the Community Center give us an opportunity to demonstrate the capability of ham radio to others, and teach us how to handle radio traffic of varying priority while in the field.
Click on the link "Event Sign-up" to sign up for the event on-line.
W6SF MARCH MEETING ANNOUNCEMENT
THURSDAY, MARCH 12TH
Meeting starts at 7:00 PM

WE WILL BE MEETING IN OUR NEW HOME
THE STOCKTON SAILING CLUB
4980 BUCKLEY COVE WAY, STOCKTON
GO ALL THE WAY WEST ON MARCH LANE FROM I-5 TO THE ENTRANCE ON THE LEFT – RIGHT BEFORE YOU ENTER BUCKLEY COVE PARK


QST QST QST… The March meeting of the Stockton-Delta Amateur Radio Club will be held on Thursday, March 12th starting at 19:00 hours. The meeting will be at our new home – the classroom at the Stockton Sailing Club, 4980 Buckley Cove at the very west end of March Lane west of Interstate 5. When you go through the gate, we are in the very first building on your right. There is lots of parking.

Following the business meeting – we will have our speaker, Alan Thompson W6WN presentation on Radio For the Rest of Us!

For years, Amateur Radio Operators have stood ready to use Radio during emergencies like the Camp Fire Disaster in Paradise to help restore communications when normal communications fail. This has worked well to aid First Responders. However, it has become increasingly critical for the average citizen to also have alternative methods to communicate when cell phone and Internet services fail. Getting an Amateur Radio license requires passing a technical exam beyond the interests or capability of most average citizens. But there are viable radio alternatives that average citizens can use without passing a test or getting a Ham Radio license.


Radio For The Rest of Us highlights these cell phone and Internet service vulnerabilities, and how our unconscious over-reliance on cell phones for virtually everything puts us at serious risk. The presentation suggests ways how Amateur Radio Clubs might help "the rest of us;" our families, our friends, and our community, stay safer in the face of cell-phone and Internet service failures.


Tell your friends about this exciting meeting and plan on attending!
HAM UNIVERSITY - "HAM-U"
NEW HAM - EXPERIENCED HAM
TRAINING CLASS
SATURDAY, MARCH 14, 2020

Ham-U is coming up on Saturday March 14th. Now is your chance to sign-up for this FREE program that every ham – from beginner to Extra Class can benefit.

The term "Elmer" means someone who provides personal guidance and assistance to would-be hams. The term first appeared in QST in a March 1971 "How's DX" column by Rod Newkirk, W9BRD (now also VA3ZBB). Newkirk called them "the unsung fathers of Amateur Radio."
Stockton-Delta Amateur Radio Club, the Manteca Amateur Radio Club and the Lodi Amateur Radio Club have come together to help teach new hams how to get started and offer this "personal guidance".
These sessions are an opportunity for the new ham to learn and discover some of the many opportunities there are in Amateur Radio to "find your world" and give any ham just the chance to ask questions and get on the air.
The class is structured with three 50 minute "classroom" sessions in the morning; lunch for an hour with "mini presentations", then two 50-minute break-out sessions in the afternoon. Classroom sessions include: Setting up and operating an HF station, Intro to CW, digital modes - FT8, DMR, Picking your Radio Club, Programming and using your HT, Anderson Power poles, building simple antennas, Radiosport (contesting & chasing DX) and an opportunity to ask questions of experienced ham operators in an open forum.
SIGN UP FOR ELMERING SESSIONS HERE.


THEY ARE FREE
STOCKTON FIRE STATION #2
TRAINING DIVISION CLASSROOM
110 W SONORA ST
STOCKTON, CA 95202
(CORNER OF W SONORA ST/COMMERCE ST)
STARTING AT 8:00 AM

Saturday March 14th, 2020
ARISS Opens Window for ISS Ham Radio Contact Proposals on February 1
Amateur Radio on the International Space Station (ARISS) is once again seeking formal and informal education institutions and organizations -- individually or working together -- interested in hosting an amateur radio contact with an International Space Station (ISS) crew member. A window to accept proposals will open on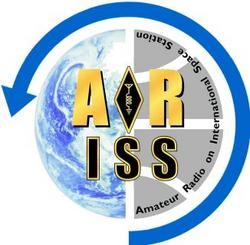 February 1 for contacts that would be scheduled between January and June 2021. The majority of ARISS contacts involve schools and educational institutions. ARISS is looking for organizations able to attract a large number of participants that can integrate the contact opportunity into a well-developed education plan.
"ARISS contacts afford education audiences the opportunity to learn firsthand from astronauts what it is like to live and work in space and to learn about space research conducted on the ISS," ARISS said in announcing the proposal period. "Students will also have an opportunity to learn about satellite communication, wireless technology, and radio science."
Proposal information and documents are available on the ARISS website. Two identical ARISS introductory webinars have been set for January 23 at 9 PM EST (0200 UTC on January 24) and for January 27 at 6 PM EST (2300 UTC). Registration is required.
Contacts with ISS crew members run approximately 10 minutes in length and allow students to interact with the astronauts through a question-and-answer session. ARISS contacts are voice-only amateur radio communication opportunities. Schools and organizations typically work with a local amateur radio club to assist in handling the technical aspects of carrying out a successful contact with the ISS.
Astronaut Reid Wiseman, KF5LKT, on the air at NA1SS on board the ISS in 2014. [NASA, photo]
ARISS stresses that because of the nature of human spaceflight and the complexity of scheduling activities aboard the ISS, schools and organizations must be flexible in accommodating changes in radio contact dates and times.
"Amateur radio organizations around the world with the support of NASA and space agencies in Russia, Canada, Japan, and Europe present educational organizations with this opportunity," ARISS said. "The ham radio organizations' volunteer efforts provide the equipment and operational support to enable communication between crew on the ISS and students around the world using amateur radio."
Proposal information and more details are available on the ARISS website. Contact ARISS with any questions.
ARRL to Argue for Continued Access to 3 GHz Spectrum as FCC Sets Comment Deadlines
(from the ARRL Letter 1/30/2020)
At its annual meeting on January 17 - 18, the ARRL Board of Directors instructed Washington Counsel Dave Siddall, K3ZJ, to prepare a strong response to protect amateur access to spectrum in the 3 GHz range. In its Notice of Proposed Rulemaking (NPRM) in WT Docket 19-348, the FCC proposed to relocate all non-federal operations, including amateur uses, to spectrum outside the 3.3 - 3.55 GHz band.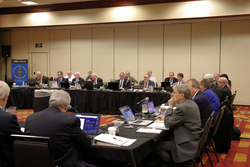 The ARRL Board met January 17 - 18 in Windsor, Connecticut. [Michelle Patnode, W3MVP, photo]
The Commission anticipates auctioning this spectrum to expand commercial use of 5G cellular and wireless broadband services, if agreement can be reached on relocation of -- or sharing with -- the federal incumbents that operate in the same band. Publication of the NPRM in the Federal Register on January 22 established deadlines of February 21 for comments and March 23 for reply comments.
The FCC has requested comment on the uses radio amateurs make of the spectrum and appropriate relocation options. Complicating matters is the fact that radio amateurs must consider the possibility that the immediately adjacent 3.1 - 3.3 GHz band is included in the spectrum that Congress has identified for similar study. FCC Commissioner Michael O'Rielly, in a December statement, referenced the fact that the lower band may also be considered for non-federal reallocation, potentially limiting relocation possibilities.
Amateurs make substantial use of the 3.3 - 3.5 GHz band that would be hard to replicate elsewhere, and they had filed more than 150 comments before the designated comment period even began. Among users looking at options are those who use this spectrum for Earth-Moon-Earth (moonbounce) communication, mesh networks, experiments with communication over long distances, radiosport, and amateur television. A portion of the band is also designated for use by amateur satellites in ITU Regions 2 and 3 (the Americas and Asia/Pacific).
A report is due by March 23 from the National Telecommunications and Information Administration (NTIA) evaluating the feasibility of having federal users share all or part of the 3.1 - 3.55 GHz band with commercial wireless services. This report is required by the Making Opportunities for Broadband Investment and Limiting Excessive and Needless Obstacles to Wireless (MOBILE NOW) Act. The results of the NTIA report will impact how much spectrum ultimately may be re-allocated for auction to wireless providers.
ARRL urges amateurs who comment to inform the FCC about the uses they make of the 3 GHz spectrum. Short comments and longer statements may be filed electronically. Visit the FCC "How to Comment on FCC Proceedings" page for more information. Commenters should reference WT Docket 19-348.
PLAN NOW ON SHARING YOUR AMATEUR RADIO AT THE 2020 WORLD OF S.T.E.A.M. EXPO
LINCOLN HIGH SCHOOL
SATURDAY, MARCH 21ST
9:00 AM - 3:00 PM
The Stockton-Delta Amateur Radio Club is a returning presenter at the Lincoln High School World of STEAM EXPO coming soon on Saturday March 21st.
We will be setting up 2 HF stations running SSB and FT8. We want to have a 2M/440Mhz station set-up, a DMR station set-up, raffle prizes and working with Lodi ARC and the Mount Diablo ARC, we will have a demonstration of Digital Amateur Television.
More will be discussed during the Monday Night Net and at the March Club Meeting. Almost 200 youngster and their parents visited our booth last year and we got several new licensed hams the following months through the HamCram program.
SATURDAY, MARCH 21ST FROM 9:00 AM TO 3:00 PM
LINCOLN HIGH SCHOOL AUDITORIUM
6844 N ALEXANDRIA PL
STOCKTON, CA 95207
Get Your Ham Radio License in Just 1 Saturday!
Saturday, April 4th, 2020
8:00am-3:30pm – Doors Open at 7:45 AM
Stockton Fire Station 2 – Training Division
110 W Sonora St, Stockton, CA 95202
HamCram is an easy way for emergency workers (paid and volunteer), CERT team members and others who might use Amateur Radio in an emergency to get their licenses.

It is also an excellent way for current hams to help family members get their licenses.
There is no easier or quicker way to get a ham license.
HamCram is for persons seeking their first license (Technician Class) as well as current hams seeking to upgrade from Technician to General Class or General Class to Extra.
Cost for the one-day event is $20 when you preregister ($25 at the door). Preregistration and prepayment are strongly encouraged.

If you have ever wanted to get your license (or know someone who should), now's the time!
Register www.w6sf.org/hamcram.html
SAN JOAQUIN VALLEY SECTION MANAGER
SILENT - KEY
Dan Pruitt,

AE6SX passed away on December 27th at age 68. Dan was a great friend and leader as ARRL Section Manager since 2009. He was instrumental in getting materials for the club's STEAMFEST exhibit last year at Lincoln High School and a frequent full weekend operator on board the USS Lucid.

His daughter Jennifer will be notifying the club of a pending Celebration of Life for Dan - hosted most likely at the Salvation Army HQ in Fresno. Dan was a long-time supporter of SATERN - The Salvation Army Team Emergency Radio Network.




SB SPCL @ ARL $ARLX001
ARLX001 San Joaquin Valley Section Manager Dan Pruitt, AE6SX (SK)
ZCZC AX01
QST de W1AW
Special Bulletin 1 ARLX001
From ARRL Headquarters
Newington CT January 3, 2020
To all radio amateurs
SB SPCL ARL ARLX001
ARLX001 San Joaquin Valley Section Manager Dan Pruitt, AE6SX (SK)
ARRL San Joaquin Valley Section Manager Dan Pruitt, AE6SX, of
Fresno, California, died on December 27. He was 68. At the time of
his death, Pruitt had been hospitalized as a result of a fall. First
licensed in 1965, Pruitt had served as SJV SM since 2009 and earlier
this year began a new 2-year term. A successor will be appointed.
Pruitt had previously served as Fresno County Emergency Coordinator,
and his focus has been on improving emergency communication in his
region, working with the Radio Amateur Civil Emergency Service
(RACES), the National Traffic System, the Military Auxiliary Radio
System (MARS), the American Red Cross, the Community Emergency
Response Team (CERT), and the System for Administration, Training,
and Educational Resources for NASA (SATERN). He had also served as
SJV Public Information Officer.
Arrangements are pending.
NNNN
/EX
From now until the end of February, 2020, every dollar donated to Youth on the Air Camp will be matched by Steve, KM9G, up to a total of $4000! Your donations in support of this unique opportunity for youth to share ham radio with their peers will count DOUBLE until the end of February. You can donate by PayPal, GoFundMe, or check. For links and details, visit
YouthOnTheAir.org
and click "Donate" in the top right corner.
Your funds will finish paying for the camp, and to raise the number of campers from 20 to 30 to better meet the demand. Our corporate and foundation sponsors have raised most of the funds, but we need clubs and individuals to finish the job. DONATE TODAY AND DOUBLE THE IMPACT!
THANKS DAVE NAVONE FOR THE LINK TO THIS COOL VIDEO ALL ABOUT HAM RADIO AND THE TV SHOW "LAST MAN STANDING"
MARK YOUR CALENDARS
FOR PEDALING PATHS 2020
SATURDAY FEBRUARY 22, 2020
W6SF
2019 FIELD DAY VIDEO
CHECK IT OUT!
THANK YOU DENNIS AD6DM
ARRL 2019 FIELD DAY
GREAT DAY - GREAT FUN
LOTS OF CONTACTS!
The 2019 ARRL Field Day was held on Saturday June 22nd and Sunday June 23rd from 11:00 AM to 11:00 AM. We had a great turn out of club members to set-up, operate and break down at the end of the event. We were on the air on 4 bands at the start of the event. Not bad considering we started setting up at 8:00 AM Saturday morning.
Set-up crews were treated to Starbuck's coffee, donuts & bagel bites.
Once on the air, the fun quickly got into high gear. We were running 6A catagory this year - 6 simultaneous stations on emergency power, so we got lots of operators and lots of contacts. We used 3 FT-950s on 20-15-10 Meters (thank you K6TVT, N6DCH & NZ6Q) using the beam antenna. Icom IC-7300 was on 40-Meters and the club go-box was on 6M and 2M. Thanks to Dave N6LHL we had his FT-840 to run a dedicated radio on 80-Meters as well.
Paul N6KZW, Jim K6JMB and John NZ6Q ran the overnight shift with lots of QSOs on 40M & 80M Phone and CW.
Here are some early pictures of the event...
Photo Album Gallery Place Holder - Please wait while the Photo Album loads. If the album does not show, please refresh the page to try again.
CHECK OUT THE NEW CLUB HISTORY PAGE
CHECK OUT OUR OWN BOB KM6ONS AND KYLE K6KDD ON GOOD DAY SACRAMENTO
AUGUST 28, 2018
CLUB REPEATERS
Located in the Sierra Nevada Mountains at 2500 feet, the club repeaters cover the Southern Sacramento and Northern San Joaquin Valleys. The call-sign is W6SF and can be heard on 147.165 MHz and on 442.250 MHz with a PL of 107.2 Hz. Club simplex frequency is 147.51 MHz.
SDARC also has a UHF repeater, operating independently, on 444.575+ PL 107.2. This is a local low level Stockton repeater with the call W6SF. As the project progresses, three receiver/voters will be installed via T1 phone lines and the addition of IRLP linking to other repeaters.